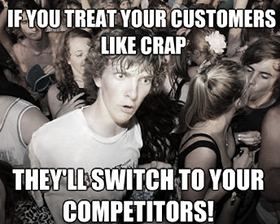 We have now sunk to a depth at which restatement of the obvious is the first duty of intelligent men.
— George Orwell
I had a long, hearty laugh today while reading this article on the Consumerist. It seems that an "expert" has concluded that more and more people people are ditching cable not only to save money, but because — drumroll please — their customer service sucks!
Of course anyone has has ever dealt with any cable company for more than 5 seconds could have told you that. But in our absurdly credentialist society, it isn't true until an expert says it's true. Never mind that Comcast has been voted by its customers as the the worst company in America. We need a professor of marketing to tell us why cable companies have begun hemmorrhaging customers now that they have a bit of competition (a little problem they didn't have to worry about for quite a few years).
I can't help indulging in a little schadenfreude at the poor cable companies' recent woes, but sadly, it won't last for long, because here's another amazing insight — if everyone starts ditching cable in favor of Netflix and BitTorrent, broadband providers will — drumroll please — jack up the price of Internet access! Someone has to pay for producing all that content, so when the baby boomers (who still pay for cable, because they're fusty old luddites 1) start dying off, the bill is going to land on your doorstep, in one form or another.
In particular, the days of flat fees for unlimited usage may well be numbered. Better download all those vintage Baywatch episodes now, while you have the chance.
You heard it here first! Not that it matters — I know you're not listening. It's not like I have a PhD in communications or anything, so what do I know?
P.S. You aren't actually paying these people for cable TV, are you? I certainly hope not.
With apologies to the more enlightened exception-that-proves-the-rule boomers who frequent this site. ↩