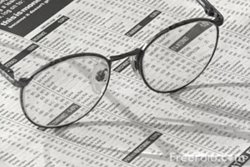 Uncertainty is the only certainty there is, and knowing how to live with insecurity is the only security.
— John Allen Paulos.
Today I'm kicking off a new series on index investing. I'm going to run the risk of offending the hive-mind with this series, so let me preface it with a couple of reminders: I am not a financial professional. I do not have a degree in economics. I offer only the opinions of a guy who spends a lot of time thinking about these sorts of things. There are many extremely smart people with extremely impressive degrees who disagree with me, and I highly recommend reading what they have to say.
Now that that's settled, I'll just come right out and say it — I have grave doubts about the future of conventional index investing. My reasons for this are many, and each could sustain a lengthy discussion and debate. The following series of posts will discuss a few of them in broad strokes.

The Siren's Call
Index funds have been touted for some years now as a sort of panacea. It's hard to argue with their appeal. Wouldn't it be great if your entire investment education could begin and end with buying equal proportions of 2 or 3 index funds, and rebalancing occasionally? Perhaps with a few tax issues thrown into the mix? I'd really like for that to be true. I just don't think it is.
Don't get me wrong, by the way. I'm not suggesting that the champions of index investing1 make that claim — not exactly, at least. Many of their adherents seem to, though. 2
The trouble is that many of the features that made index funds so good in the past, such as safety in diversification, piggybacking on efficient market pricing, and good historical performance, might not hold in the future. In fact, some appear to be breaking down already.
Here's a quick sneak peak of some of the topics I'll be getting into:
Rising correlations — diversification ain't what it used to be.
The efficient market theory — it requires active investors to work.
Boomers retiring — the Great Grey Menace.
Economic growth — the exponential function revisited.
The fate of superpowers — this time it's (not) different.
I'd like nothing more than to be proven 100% dead wrong on each of these points, by the way. I'll be looking forward to the conversation.
In the meantime, why not subscribe to my rss feed to make sure you don't miss the future installments?