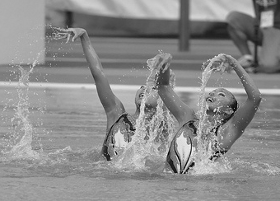 Be not simply good; be good for something.
— Thoreau
You hear it everywhere — from the Internet, self-help books, well-meaning friends, teachers, TED talks and TV shows — there seems to be no escape from the mantra: Do what you love, and the money will follow. Follow your dreams. Live your passion.
As with most conventional wisdom, this bit of "advice" is best viewed with suspicion. That goes double for the sort of narcissistic claptrap that feeds people's fantasies of having whatever they want, on their own terms, without giving a moment's thought to the needs or desires of others. That sort of mindset may sell lots of books and tickets to seminars, but does it lead to success?
The Parable of the Synchronized Swimmers
During the 2012 Olympics, I would often have lunch at a local sushi bar that would play whatever event was being televised at the time. Seeing as it was pretty much the opposite of prime-time, I got to sample some rather obscure events — like badmitton, women's water polo, and speed walking. The one that sticks out most in my mind, however, is pairs synchronized swimming. That's right, synchronized swimming for two.
I watched with what can only be described as bemusement as pair after pair of extremely athletic and agile young ladies bounced and spun around in the water together to various odd music selections. I was even more bemused when the announcer described their brutal training regime. Apart from 6 hours of hard training per day, many of the pairs spent 24 hours a day together, 7 days a week, to "stay in sync."
Soon afterwards, women's volleyball came on, and at one point the camera panned to Kobe Bryant, sitting in the stands. I just had to shake my head. The girls who won gold in pairs synchronized swimming were every bit as talented and gifted as Kobe. They were at a roughly equivalent level of physical conditoniong — certaintly in the top .1% in the world. They trained at least as hard as Kobe — harder, I'd be willing to bet. They clearly were every bit as dedicated. But you've never heard of them. Their faces will never be on a box of Wheaties. Meanwhile, Kobe rakes in tens of millions per year.
These girls followed their dreams, but chances are they'll never make a real living off their passion. A few of them may go on to be trainers, but that's about the best that can be hoped for. Sure, their sport is challenging, and requires a great deal of skill and physical conditioning. Learning to play Tiddly Winks with your butt cheeks would be difficult as well, and would also require a great deal of skill and physical conditioning. Both are more or less equally worthless in the marketplace. (Actually, the butt-cheeks-Tiddly-Winks guy might be better off — at least he'd have a shot at Youtube stardom.)
Now imagine all the girls who trained just as hard, who wanted it just as bad, who were every bit as dedicated and persevering, but didn't win medals, or didn't even make it all the way to the Olympics, because they just weren't lucky enough in the genetic lottery. Tough luck. Them's the breaks.
Your Passion Is Irrelevant
The world can be a harsh place, and here's a harsh truth — no one gives a damn about your dreams. No one cares about your passion for Polka music. The guy sitting next to you on the bus doesn't give two shits about your secret desire to be a puppeteer. And he doesn't give the square root of shit about a couple of girls' dreams of winning gold in pairs synchronized swimming.
Tiddly winks. Butt Cheeks.
That guy on the bus does, however, care a great deal about how many three-pointers Kobe Bryant made this season. He'll talk your ear off about it for the entire ride home. And that's why Kobe is rich, and the synchronized swimmers aren't. Kobe puts asses in seats by the hundreds of thousands. The synchronized swimmers bemuse the occasional sushi eater.
This may seem unfair to you, and you're right — it is unfair. It's quite unfair for you to feel entitled to have others care enough about your passion to pay you for it, when it doesn't hold any particular value or appeal for them. You may feel the world ought to appreciate the neo-Shakespearean love sonnets that bring you so much joy to write — that a just, cultured world would value your unique gifts more than a jackass like Kanye West. But like it or not, Kanye figured out how to give people what they want. And no matter how much you may wish otherwise, no matter how steadfastly you refuse to "sell out," no matter how skilled you are at playing the alphorn, no matter how many hours you practiced, no matter how much you suffered for your craft…
Tiddly Winks. Butt cheeks.
So go ahead, follow your passion and do what you love, but do it for its own sake. Maybe you'll find a way to earn a living with it, and maybe you won't. Either way, if you want to be a success, the key is to do what other people love for you to do. Be of service. Fill a need. Stop thinking only of yourself all the time. Ignite passion in other people. If you only do what you love, then no one will care but you.