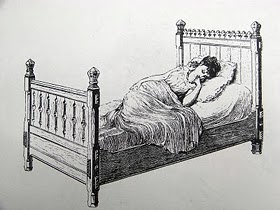 When I woke up this morning my girlfriend asked me, "Did you sleep well?" I said "No, I made a few mistakes."
— Stephen Wright
In the '90s I spent a couple of years working in consulting. These were the high-flying days of the first Internet boom, so I got flown all over the country on software development gigs for clients with more money than sense. I stayed on expense accounts in a lot of the fanciest hotels — the Ritz, the W, the Four Seasons, the Palomar, the Fairmont, the Omni — I sampled them all 1. The beds were usually pretty nice, but nowhere have I found one more luxurious and comfortable than the one I have at home.
Here's my setup. It's queen-size. I've had it for 7 years, so these are 2005 prices, but most of these items can still be found for roughly these amounts with some patience:
Novaform memory foam mattress 2 ($550 at Costco)
Goosedown comforter ($150 at Costco)
1000 thread-count duvet cover ($69 at Marshall's)
1000 thread-count hotel-style sheet set ($50 at Marshall's)
Feather Pillows with memory foam core (2 x $35 at Costco)
Simple steel bed frame: $50
Grand total: $939. Sure, I could have put a decent bed together for much less, but I believe in paying for quality when it comes to things that matter, and nothing matters more than a good night's sleep.
Honestly, this setup is so fancy and luxurious that I almost feel like a fop sleeping in it every night. No billionaire could do better. Bill Gates may be able to buy a solid-gold headboard and sheets made of spun platinum fibers, but there's simply no way his bed is more comfortable than mine, and to paraphrase Tom Bodett, when the lights are off at night, my bedroom looks just as fancy as well. I average about 8 hours of sleep per night, so I get to live as well as any billionaire at least 1/3 of the time.
Truth be told, it's a lot more than 1/3. For instance, right now I'm sitting in my lovely house, next to my lovely wife who is curled up with a book, with our lovely dogs snoring quietly beside me, and when I close out this post, I'm going to curl up with a lovely glass of wine and a book of my own. Once again, no billionaire could do better.
Chances are your life has plenty of these moments, if you'll only pause to take note of them.
For the record, nowadays I prefer Motel 6. ↩
Before I get a flood of comments from people who hate memory foam: yes, I know, it's not for everyone. What kind of mattress you like is very personal, blah blah blah. But one thing is for sure — it's a very frugal choice in the long run, since memory foam basically never wears out. I don't expect to have to replace this mattress until 2030 at the earliest, at which time I'll probably buy another exactly like it. ↩